SPECIAL FEATURES
Tia Carrere
Margaret Cho
Church of Rhythm
Hiroshima
James Hong
Bruce Lee
Jet Li
Keye Luke
Martial Law
Minoru Miki
Lea Salonga
George Takei
Tamilyn Tomita
Ming-Na Wen
Anna May Wong
Russell Wong
HOME

SECTIONS
Actors
Actresses
Astronauts
Athletics
Authors
Business People
Cartoonists
Community Leaders
Dancers
Directors
Fashion Designers
Film Festivals
Military
Musicians
Newscasters
Politicians
Television Shows


"Over the mountains
There are mountains"
a look at asian pacific american literature

Written by Jessica Lim
One afternoon Leila cornered the woman in the laundry room and tried to communicate with her while helping her "Leila told me later that the woman actually began nudging her in the side with the fleshy mound of her low-set shoulder, grunting and pushing her out of the room with short steps; Leila began hockey-checking back with her elbows, trying to hold her position, when by accident she caught her hard on the ear and the woman let out a loud shrill…she backed away when she saw Leila and cried madly in Korean, "You cat!, You nasty American cat!" (Lee, 71).



Prominent Asian Pacific American Book Authors





A beginning list of other prominent Asian Pacific American book authors can be seen below:

Iris Chan
Ken Fong
Jeanie Wakatsuki
Ji-Ji Jiang
Jhumpa Lahiri
Joann Lee
Fae Myenne Ng
Tracy Quan
Amy Tan
Loung Ung
William Wong
Misaye Yamamato
Rae Yang

Click HERE for more info on these book authors and other prominent APA's in the media.
Remaining nameless gave the ah-juh-ma,

a sense of privacy. Had she wanted to discuss her past, she would have. And Leila's attempts to get to know her were read as threatening. Leila's inability to understand this woman's disposition shows that there are certain nuances of 'culture' that simply can not be connected. Henry and his father never pried the woman for information for the sheer reason that it would probably be shameful for her and by her 'opening' a flood gate to her probably sad past- she would lose face to them. Leila's miscommunication with the ah-juh-ma exemplifies the difficulties of a non-Asian establishing an intimate relationship with a native Asian in America. A less estranged relationship is that between an Asian American and an American, Henry and Leila for example.

They for the most part

are able to communicate, but their pasts and upbringing differ drastically. They view each other as comrades in a certain light, but as strangers in another. Leila expresses a strong discomfort with her Asian American's ability to mask his emotions. She can not fully understand that this is something that he learned from his father; something that is a result of his Asian roots: Henry's memory of his parents are embedded with this very notion of remaining silent in times of turmoil,
" My mother said to me once that suffering is the noblest art, the quieter the better. If you bite your lip and understand that this is the only world, you will perhaps persist and endure. What she meant, too, was that we can not change anything, that if a person wants things like money or comfort or respect he has to change himself to make them possible, because the world will always work to foil you" (Lee, 333).
Henry's reaction to his emotions at times reflects his mother's reverence for silence and a quiet enduring of turbulent emotions. The complexity involved is that he is able to remain silent, but at the same time knows that that is not an effective way of communication with his wife who did not grow up with the same structures of communication:
" We perhaps depend too often on the faulty honor of silence, use it too liberally and for gaining advantage. I showed Leila how this was done, sometimes brutally, my face a peerless mask, the bluntest instrument" (Lee, 96).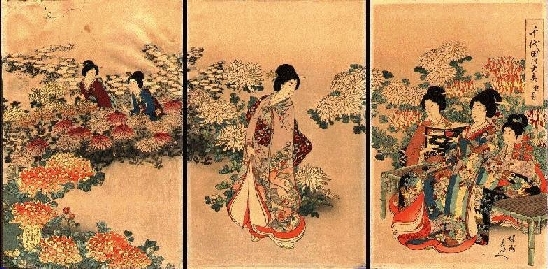 The Asian American

is able to survive in a relationship with an American, because he is able to accept that there are things about him, his tradition, and his ways of communication that she will never completely understand. And his connection with other Asian Americans and Asian immigrants is something that will always remain a bit foreign to her, because, it is foreign, or rather different. And although she may be receptive to learning the differences, there are certain things that she will always have difficulty understanding and accepting, like the idea and acceptance of an ah-juh-ma.

Lee's novel incorporates

all of these relationships and expertly creates situations that reveal the differences that exist amongst these relationships, while weaving them together, creating a stronger sense of what it means to be an Asian and an Asian American in America. These colorful and richly complex characters also add a new dimension to the scope of characters in American literature. Through the continued exploration and of these characters both the literary world as well as the 'real' world will be more knowledgeable about what America is and what it can become.




To return to the beginning of the article, click HERE


Part 1: Learning the definition of being an immigrant Part 2: The many "layers" of being an immigrant Part 3: Immigrant Asian's interaction with an Asian American Part 4: Relationship between an Asian immigrant and another Asian immigrant Part 5: Relationship between an Asian American and an American Part 6: Info on what America is and what it can be




Any questions regarding the content, contact Asian American Artistry
site design by Asian American Artistry
Copyright © 1996-2002 - Asian American Artistry - All Rights Reserved.
Special thanks to Vision Software